Trusted Asphalt Roofing Contractor in Renton
Are you a homeowner in Renton, WA, seeking a roofing solution that can withstand the region's challenging climate while enhancing the beauty and protection of your home? We at Roofing Formula LLC are incredibly proud to be your go-to asphalt roofing contractor in Renton.  
With our expertise and commitment, we offer the most dependable roofing services to keep your house secure, cozy, and aesthetically pleasing for years to come.
Why is Asphalt Roofing the Roofing of Choice?
Asphalt shingles have earned their reputation as one of the best roofing options for Renton homes for several reasons. Renton experiences a unique climate with moderate rainfall throughout the year and cool winters. Such weather demands a roofing material that can withstand changing temperatures, preserve its structural integrity, and effectively repel water.
Protection:

This roofing provides outstanding protection against rain, snow, and UV rays. Your home and belongings will remain safe from water damage and sun-related deterioration, no matter the season.
Style Versatility:

Asphalt shingles come in various colors and styles, making it easy for you to find the right match for your property's look. Whether you want a classic and rustic charm or a more modern appearance, there is an asphalt shingle that complements your vision.
Design Options:

Three-tab, architectural, and designer options are available for asphalt shingles in different forms and profiles. While architectural and designer shingles create depth and character and resemble slate or wood shakes, three-tab shingles give a more streamlined appearance.
Although asphalt shingles are a common roofing material, the skill of the roofing contractor has a considerable impact on how well they are installed and function. Roofing Formula LLC, a reputable asphalt shingle roofer in Renton, can help ensure that the job is done correctly the first time.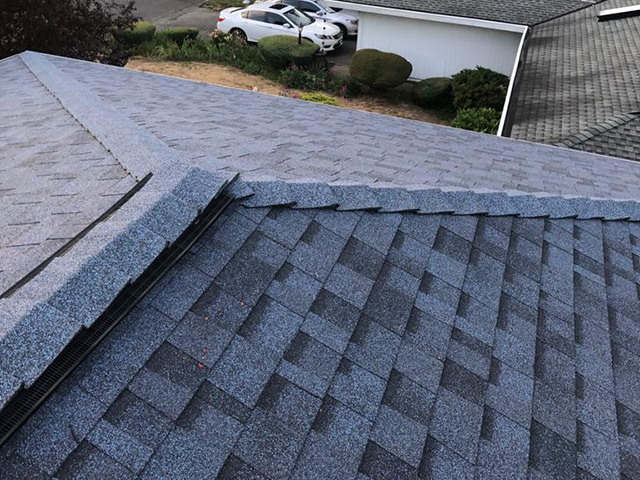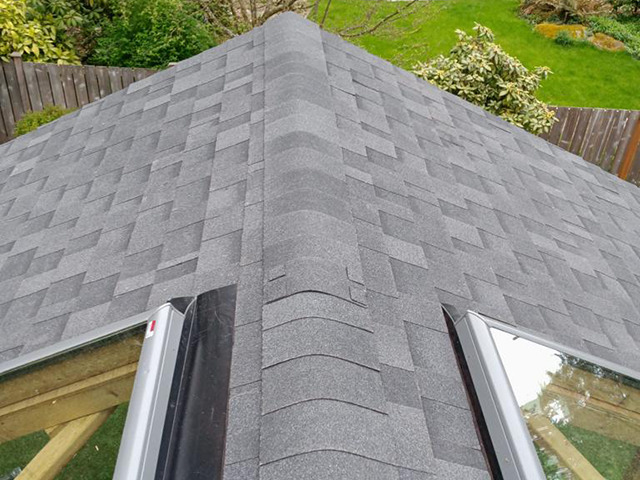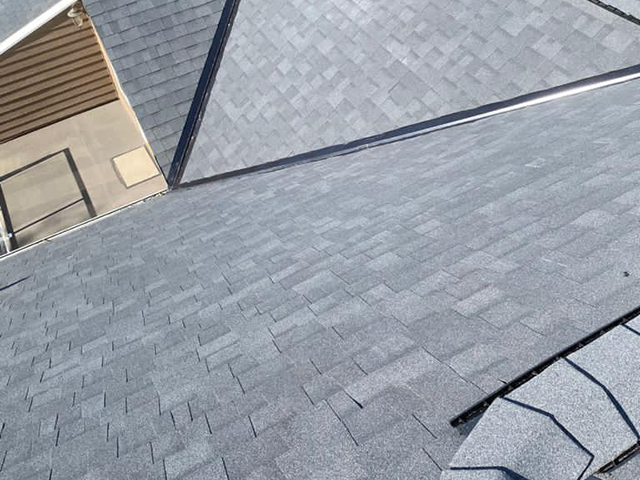 Roofing Installation Process
Generally, we follow a systematic and efficient process for asphalt roofing installation.
Roof Inspection

– First, we thoroughly assess your roof to determine the best approach for your specific needs. We check for structural integrity and address underlying issues. We also ensure proper ventilation.

Removal of Old Materials

– If there is an existing roof, our roofer strips down old materials to create a clean surface ready for new installation.

Installation of Protective Barrier –

The asphalt roofing contractor installs an asphalt-saturated felt or synthetic underlayment as a protective barrier against moisture.

Installation of Flashing

– We place flashing around roof penetrations to make a tight seal and stop water infiltration.

Secure Foundation

– We place a starter strip or course of shingles along the eaves to establish a secure foundation for the next shingle layers.

Installation of Asphalt Shingles –

Beginning at the bottom and moving upward in overlapping rows, our roofer installs the primary layer of asphalt shingles.

Finishing Touches

– Specialized shingles are installed along the roof's ridges and hips for a more finished look and improved durability.

Cleaning and Inspection –

Following installation, we completely clean and examine the work area to ensure everything was installed correctly and following the law.
Prolong Your Roof's Lifespan with Regular Cleaning
Regular roof cleaning is crucial to maintaining the longevity and performance of your asphalt shingle roof. Your roof may accumulate debris, moss, algae, and other substances over time, which could cause leaks and premature deterioration. 
Our roof cleaning services effectively remove these nuisances, increasing your roof's lifespan and maintaining its aesthetic appeal.
Address Wear and Tear
Asphalt shingles are resilient, but over time, certain factors can result in wear and tear. Common culprits include heavy rainfall, temperature fluctuations, strong winds, and natural aging. If your roof is showing signs of damage or reaching the end of its lifespan, Roofing Formula LLC is here to help. 
Our asphalt shingle roofing company in Renton provides top-notch roof replacement and roof repair services. Count on us to restore the beauty and strength of your roof.
Hire Our Asphalt Shingle Roofer in Renton
Don't wait until your roof becomes a major concern; contact us today at (425) 207-6016 for all your asphalt roofing needs. We take pride in delivering exceptional roofing solutions, from installation to repair and maintenance. Our commitment to quality, reliability, and customer satisfaction sets us apart as the go-to asphalt roofer in the area.
Contact us today!
We look forward to working with you!
Our business continues to grow and thrive on referrals and high recommendations.